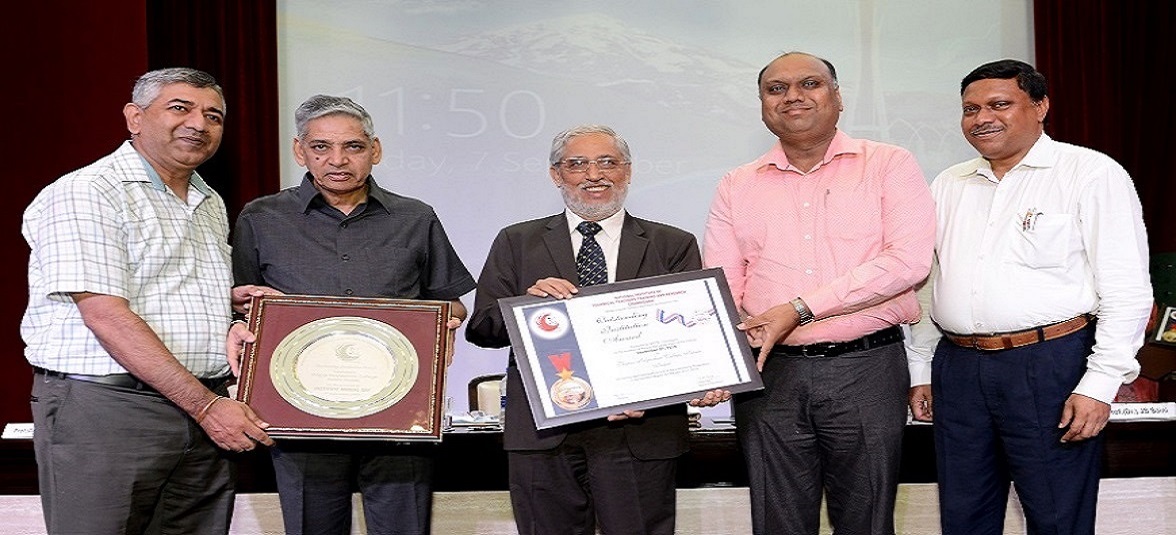 Thapar Polytechnic College, Patiala, achieved "Outstanding Institution Award" for session 2017-18 awarded By NITTTR, Chandigarh
Thapar Polytechnic College, Patiala, was awarded with "Outstanding Institution Award", for its best performance in North India including J&K, HP, Punjab, Haryana, Chandigarh, Delhi, UP, Uttarakhand, and Rajasthan, for the academic year 2017-2018.

This prestigious award was presented by the Chairman, All India Council for Technical education (AICTE), Prof. Anil D. Sahasrabudhe and Padam Bhushan Dr. K.K. Talwar, Chairman BoG, NITTTR and former Director PGIMER, Chandigarh, who apprized the industrious feats of Thapar Polytechnic College. The Principal, Dr. Ankush Kansal, was companioned by HOD, Electrical Department, Dr. Anurag Joshi while receiving the award, which was revered by National Institute of Technical Teachers Training and Research, Chandigarh, on the occasion of Institute Annual Day.

Dr. Ankush Kansal, Principal, TPC, Patiala, inspired the audience by giving the importance of team work and that it was a proud moment to receive the well deserved award. He expatiated about TEAM as "Together Everyone Achieves More", making the participants feel motivated about the possibilities and pinnacles, one can attain. He gave the example of his own faculty and staff members, who tirelessly contributed towards the victorious accomplishment, who worked together cohesively, creating a positive working atmosphere, combining their individual strengths to enhance team performance. He dedicated this award to his workforce and explicitly stated that teamwork was a crucial part, where all the staff contributors harmonized their efforts, worked day and night, bestowed their commitment and went though some amount of struggle, in creating this gallant moment.

Dean, Academics and International Affairs, NITTTR, Chandigarh, Dr. S.K. Dhameja, preened about the distinguishing performance of Thapar Polytechnic College, Patiala for the academic year 2017-2018 and expressed that the college exhibited noteworthy executions in different facets of academics and co/extra-curricular activities. The college had a legion response during Science Fair, where a vast number of students of various schools learned the practical and creative angle of theoretical studies with the help of technical working models and projects created by savvy students of TPC. Job fair was another milestone, which had humongous response of in-house and outsiders' placements. Under Punjab Technical Institutes Sports (PTIS), Thapar Polytechnic outperformed in several vistas such as Sports and Cultural events, like hockey, football, cricket, badminton, table tennis, paper presentation in Tech Fest, Youth Festival, etc. and was positioned as a runner-up since 2013 onwards. The college has also been a State Level Awardee, bagging 1st and 2nd prize in Model Making Competitions at Puspha Gujral Science City, Jalandhar. Additionally, the institute has also been associated with various government schemes like PMKVY, Battle of Skills, where students participate, learn and apply the diligent concepts of theory. Industrial Visits, Expert Lectures, Workshops, Short Term Courses, Seminars have been organized by the college which acts as a great platform of development where skilfulness in the command of fundamentals deriving from practice is made familiar to the students. Thapar Polytechnic College has the astute management, college administration, teaching/ non teaching staff and state of the art laboratories and infrastructure which makes the journey of learning holistic, helping in sharpening the latent skills and overall personality development of its future engineers.